Turn Up The Sun (Dom Mariani and The Majestic Kelp)
Album NOW AVAILABLE ON 12" VINYL, order details below...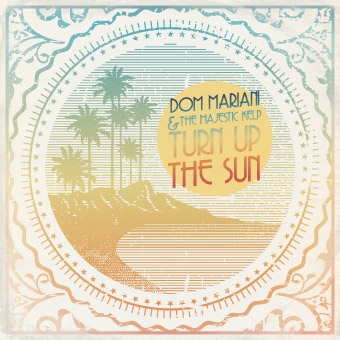 After a 7 year wait Dom Mariani and The Majestic Kelp are back and proud to announce the release of their long- anticipated third album, Turn Up The Sun.
Turn Up The Sun sees Dom Mariani and long-time Kelp cohort Stu Loasby combine their love of surf drenched West Coast tones to arrive with a simply beautiful set of tunes that sparkle and glisten.
The album's 13 tracks of layered and irresistible melodies evoke summer days and balmy oceanic nights with a knowing nod to movie soundtrack maestro, Ennio Morricone, where the inspired instrumentation and psychedelic leanings were hinted at on the Kelp's previous albums, Underwater Casino and Music To Chase Cars By.
This album also features exceptional guest musicians including Grammy award winning pedal steel wizard Lucky Oceans; former Riptides bassist Howard Shawcross; guitarist, Peter Leveson Gower (Sonpsilo Circus); and Hank Marvin side man, Nunzio Mondia; these talented players add another dimension to Turn Up The Sun.
Going Back To Surf City opens the album in classic surf instrumental style neatly followed by the sunshine pop vocal harmonies of the title track and the lovely and wistful Where in the World. Unlike previous Kelp albums where the songs were predominantly instrumental, Turn Up The Sun sees Dom using his voice to great effect, as evidenced on these tracks and at the end of the epic soundtrack themed Silver Sea.
Smoke Signals and The Ghost of Boobalooba Beach sees The Kelp take a walk along isolated desert highways and windswept beaches to arrive at the latino beach party groove of Meninas Do Sol and around the globe to the duelling clash of cultures in Bollywood and Western.
Climb on board the golden Galleon that is The Majestic Kelp and let the music sail you to a destination unimagined as the sounds wash over you. Turn Up the Sun really is a soundtrack to summer.
Dom Mariani - Electric and Acoustic Guitars, Electric Sitar, Bass and Baritone Guitars, Vocals, Percussion.
Stu Loasby - Bass, Piano, Combo Organ.
Featured artists listed on each track...
Turn Up The Sun is now available on VINYL! Click below to order your 12" vinyl copy now...
Overseas Orders please click below:
For Australian Orders, please click below:

*** Head Records and this project have been assisted by the Australian Government through the Australia Council, its arts funding and advisory body.
Track Listing Show
Goin Back To Surf City
Turn Up The Sun
Silver Sea
Where In The World (A Song For The Summer)
Beach Combing
Reef Beat
Smoke Signals
The Ghost Of Boobalooba Beach
Gin And Tonic
Meninas Do Sol
Bollywood And Western
4 In The Mornin'
Where In The World (New Mouse DT Mix)
Buy Music
Cat# HEAD169
1800 802 061 Phone Orders Australia
+61 3 9537 7155 Overseas Orders