Bakelite Radio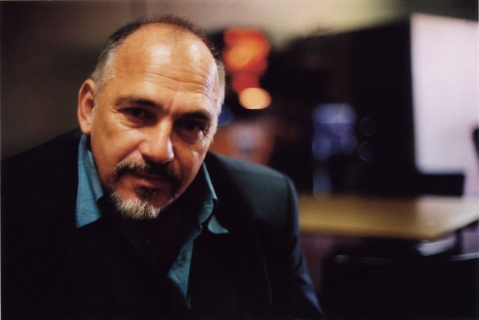 "Bakelite Radio represents the kind of music I was listening to as a young boy digging the wealth and richness of the blues. Several of these songs were just lying about looking for a little sunlight. The idea was not to dissect every little move, just keep the spirit intact and be sympathetic to the double bass. Ed, Claude, Nicky, Simon and I would instinctively pick up what was needed. We recorded 20 tracks for the Bakelite sessions in 6 x 4hr blocks at Woodstock Studios, Melbourne between Nov and Dec 2002." Joe Camilleri on Bakelite Radio's first release Volume ll.
Volume lll
As the world gets slicker at programming click tracks and loading sound files, here's one guy still kicking back, counting in and cutting sides. With Volume III, he's never sounded more intoxicated by the pure spirit of music; never sounded closer to home.

"It's old fashioned music, played in an old fashioned kinda away," he says of Bakelite Radio's latest collection of soulful originals glued together with like-hearted obscurities. "To me it's timeless music. It comes from when records were king. That was the big game. It wasn't sport or TV or DVD. Music was the one thing that could lift you up."

None of these songs are particularly old: the rocking-chair spring of Bap Kennedy's "Moonlight Kiss", Guy Davis's gambolling "Sugarbelle Blue" and the slow cruise of Greg Brown's "Blue Car" have only been breathing for five years.
"It's blind faith, really," Joe says. "I might play the song once, for feeling, but I put a time limit on everything. It's not jazz, but it's a jazz concept – it's about trying to find something within a song, and then accepting what it is. I guide it to some degree, but not to within an inch of its life. That's how I like it. And I really like it."

VOLUME IV

It's been about 2 years since Bakelite Volume II. The tenor sax is king on Volume IV - a pinch of soul, a little rock n roll and a hint of country blues.

The collection of songs started out with the Allen Toussaint's Yes We Can along with songs from Nick and I, 12 months later and we are ready to go with Volume IV.

Since Volume III, Joe Creighton has taken over in the bass department. There had been a shift creeping into the live performances, there's a more soulful sound because of Joe. We have more choices in this direction. Otis Redding, Sam Cook, Curtis Mayfield, Eddie Hitton,, Allen Toussaint and Ray Charles were always on the top of my record collection.
Viva la Money
An Allen Toussaint tune. Nothing makes you holler like the all mighty dollar. Protest is a good wheel to express disapproval. Viva la Money is simply a one-chord riff. Claude and Joe double the riff again, then the horns jump in and James plays a good groove across it with a little message.

Lean On Me
Lean On Me is a JJ Cale song. We built this up with lots of little sounds coming together making a musical conversation. Willie, Dave and I make up the horn section which is tough and snappy. Jimmy plays a fab electric piano solo, Claude's guitar makes a good bed and the bass is independent.

Don't Judge Me Too Hard
I was going to give up on this one. Tony, Joe and Claude encouraged me to give it one more play. It works great like this. The guitars are dirty and the song says what it needs to. Then its over.

Ice
This appears on Daniel Lanois' classic first solo CD Arcade. Atmospheric, hi vox. I found something in Ice, maybe because it was so open in the first place, Claude's acoustic guitar leaves room and not making it a straight reggae groove gives more movement with a lot of colour.

How Many Tears
This song has been hanging around for ages and is fun to play live. It's a rocking song that plays itself. Rock n roll guitars. I love the sax solo played by Willie Wilde and James is cooking on the 88th. That's its charm. See ya' at the end.

Every Natural Thing
19 birds on a sycamore tree, everyone with its own melody singing all together without a beat. Somebody tell how come it all sounds so sweet. Eddie Hinton – I just can't get enough of his thing. The boys love that old rock n roll. Lots of fun singing this one. I hope Eddie doesn't roll over in his grave.

The Raven
I wanted to play the sax around the voice to share the blues upside your head thing. Vibes only at the end makes a nice change for the sax to float and continue on. If there is a sound for Bakelite Radio, this would be it but I say that now. The bass and acoustic guitar part sounds easy and for once the key change works.

Right Place Wrong Time
Willie and I used to play from time to time with the Gulliver Smith Band. Playing horns for Gulliver in the 70s is how I came to know this tune. Right Place Wrong Time was the last song recorded for Volume IV. James, Tony and Joe propelled it along, the horns stabbing away, Claude's cracking guitar solo - this song cooks. Willie's sax solo at the end could have gone forever.

Volume IV has moved a long way from Vol II and III, this can't be helped you always think you can go back but I don't think you ever want to. Most of these songs are from my youth apart from the ones that Nick and I penned. There are so many great artists still doing big things and so many great songs need another spin, that's how I see Bakelite Radio working some borrowed songs, some new.
Volume l

"I get so many people asking me, "Is there a Bakelite Radio Volume I?" My intention was always to record Volume I, but it didn't work that way. We started at Volume II. And then there came Volume III – after that disc, it didn't feel like I could go back to Volume I. So then we did Volume IV. After Volume IV, I somehow, without knowing it, I ended up with songs that sounded like I had recorded Volume I.

I did find a demo of songs that I was going to get around to record for Volume I. I would do this a lot - go in and record everything without taking a breath, listen back in a week or so, pull the eyes out of it, go back in to Woodstock Studio and start the recording process. Somehow I let these recordings go through to the keeper.

Most of the songs for Volume I start from this lost demo of songs. I kept Let The Good Times Roll, Anna and Nobody's Fault But Mine just as I found them. Yellow Roses has always been around in my musical life - this is one sad old song with Ed Bates is on the pedal steel, John McAll playing the piano and I love the tom-toms (a little Hawaii in St Kilda). I heard Trying To Win on a road trip into the heart of WA, a big drive with lots of music for the journey, I always made lots of CD comps before the iPod and this song was on a Sunny Terry and Brownie McGee LP. I turned it around some - Ed plays lap steel, John is jamming along in the background, the bass is loud and I find the conversation between the musicians here very attractive.

Hang My Head and Cry was a nice find; Arthur Alexander was a great singer songwriter, a true artist, this format for a song still works today. Ed is back on the steel again, that old time religion John playing piano the way I would love to play country music and Claude Steve and Nicky just glide through it.

Holy Cow comes from New Orleans. It's a '50s hit for Lee Dorsey. I thought it would be a good track to soup up in country way with everyone in and Ed leading the way on that lovely sewing machine. I love the way the songwriter put together Just For A Thrill. John plays sweet piano that helps the singing, not my normal style but there something in this song I hope I get across, just for a thrill.

Be Real what else can you say in life. Jimmy Reed is the pop king of the blues. Reed's songs are played and recorded by everybody who loves the blues. One of the songs from his vast catalogue is a song called Insurance, let's get some. Steve plays a dirty bass intro, Claude and I do the guitars, Nicky is playing the drums. Blues Around My Head is a fun song to play - John Claude and myself are having that conversation that normally wouldn't work around this feeling but, somehow the spirit of this simple blues format does just that - work without being jazz music. The Everly Brothers had a massive hit with Let It Be Me. I wanted to slow it down and make it more desperate, musically let the harmonic structure do its thing and play with the melody some.

Come Back Baby is the last track on Volume I. We recorded it on the weekend of Ray Charles' death. I was drawn to like a moth to a flame. Ray Charles was it and is still it. We never played it again.

Well that's Volume I. Good-bye for now."
Joe Camilleri