The Black Sorrows
(DVD with bonus CD)
Format: Region 4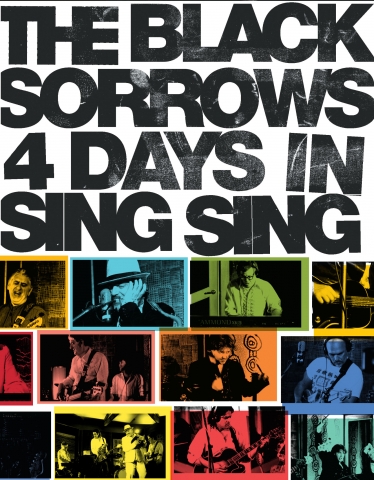 The Black Sorrows and Head Records are proud to announce the release of The Black Sorrows' first DVD, Four Days In Sing Sing.
Four Days In Sing Sing documents exactly that. Joe and The Sorrows over four days in Melbourne's legendary Sing Sing Studios, the birthplace of classic Sorrows' albums such as Hold On To Me and Harley and Rose.
The new release packs in seventeen tracks that the band loves to play live, sprinkled with a couple of Sorrows' chestnuts. Filmed by Director Remo Camerota and DOP Mark Bakaitis, Four Days captures the sounds of a hard working band. The plan at outset was to power through each track – get them down in no more than three takes. It was about the music and keeping it fresh, not overworking it. Sure that caused problems for Remo and editor Ash Koek down the track, but the resulting sound is incredible. This sound is matched by the incredible atmosphere of a room steeped in hits and dressed for the shoot with incredible aboriginal artworks courtesy of Aranda Gallery. Including interview footage of the band, sneak peaks behind the scenes, diary notes of the process by Camilleri and a bonus CD of all 17 tracks so you can rock out in your car, Four Days In Sing Sing is classic Sorrows quality all the way.
"This all started because I was asked to document the past for a live DVD. I love and embrace my past, but I know and believe that The Black Sorrows will never be a heritage act because for us there's no finish line. The heart and soul of The Sorrows still beats loud and clear." - Joe Camilleri.
Hear that heart and soul for your self. Check out The Sorrows' Four Days In Sing Sing now.
For more information about Black Sorrows and other releases from Joe Camilleri,
click here to go to the artist page
Track Listing Show
Don't Judge Me Too Hard
Comfort Me
Lean On Me
What Levi Wants
Lonesome Road
Lay By My Side
Such A Night
Sumo
Where's It All Gonna End
Every Natural Thing
The Raven
The Best Thing
Better Times
Bonus: Don't Judge Me Too Hard (Film Clip)
Bonus: Sometimes I Wish
Bonus: Midnight Rain
Bonus: Little Murders
Bonus: Viva La Money
Buy Music
Cat# HEAD109
iTunes
Hi Res Download
1800 802 061 Phone Orders Australia
+61 3 9537 7155 Overseas Orders